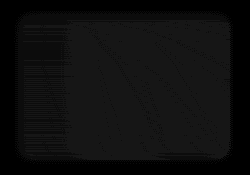 Yesterday, Barry Andrews uploaded a new blog entry on the Shriekback Tumblr. It's a great read, obviously, but I saw a lot of what he wrote could also apply to other musicians, artists, writers, dancers - basically anyone who produces creative content. Over the years, I've come across artists who work in all creative mediums who say they were influenced and/or inspired by Shriek music. I was especially pleased to read two particular statements in the narrative.

Barry wrote:

Shriekback has long enjoyed a cordial, if intermittent, rapport with the film business. The reason is not hard to discern: we do seem to be good at creating 'atmosphere'. Evoking feelings; establishing a mood. I've no idea why this comes so easily but it does. Music can sidestep the conscious, critical mind and make emotions happen in a way that visual media have to work a lot harder to do.
Later on in the blog entry, he wrote:

It's always a nice moment when you get an email asking to use a piece of Shriekback music in a film: firstly it means you get paid without doing anything (though you always seem to have to chase the money- doubtless for some film biz related reason). And also there's an implied compliment in that someone saw something in your work which they felt would enhance their own.
Of course, I had to share the entry to my Vampire Relics Facebook page, adding my own opinion about the nature of creative expression. Here was my take as the writer of The Vampire Relics: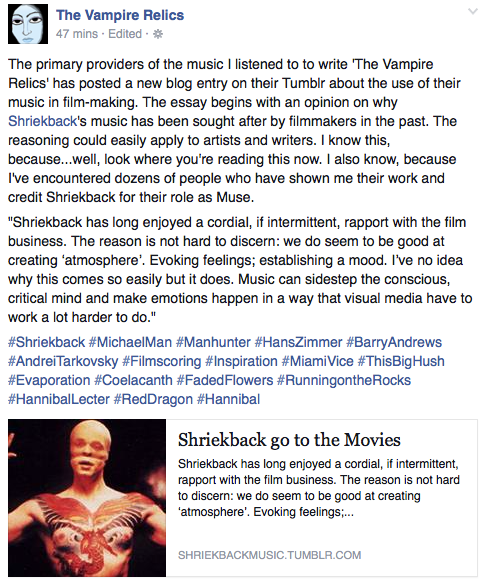 So what do you think? Do you think Shriekback's treatise on the nature film-making and its relationship with music is a valid perspective? Do you believe how what he says could apply to any creative effort? If you have opinions and/or insights regarding this, please share them. Also, if you have drawn, written, painted, filmed, photographed, recorded, built, or made something that came into existence because of Shriekback's influence on your imagination, I'd love to see it. If you do share something with me, be sure to let me know if I can pass it on to Barry because, as quoted above, he considers such activity to be "an implied compliment in that someone saw something in your work which they felt would enhance their own."