For some idiotic reason, I had no clue that such a thing as an author's page existed on Amazon, so I'm playing catch-up now. I've uploaded a blurb about The Chalice, which will be live in 3-5 business days, according to Amazon. My page URL is http://www.amazon.com/Tracy-Angelina-Evans, if you're interested to see how I fare in filling in so many long-standing voids. For now, though, here's what I wrote about book 1:
From the Author
The Chalice was originally born in 1987 from a dream I had about Vampires that involved the songs 'Mercy Street' by Peter Gabriel and 'Theme from Harry's Game' by Clannad. In my dreamworld, Vampires defined in equal measure both blasphemy and sanctity. Even though I grew up with Vampire myths and legends, beginning with watching Dark Shadows in my playpen with my mother, I began a quest to learn as much about these beings as I possibly could, from the perspective of the many global cultures from which they sprang. One of the most influential books in my research was A Dream of Dracula by Leonard Wolf. Combining his profound scholarship with the myths of an alien race I had been writing about since 1983, I wrote my first short story about a Vampire turning a human to the night over the course of three days. This was my first Vampire character, Vasily Tenin (Thiyennen), who became one of the main characters in the book series. Also, in 1987, I read the book Holy Blood, Holy Grail by Michael Baigent, Richard Leigh, and Henry Lincoln. The idea of the Grail not actually being a cup set fire to my imagination, as did the subtle references to a centuries-long conspiracy that involved the Knights Templar, Freemasonry, and the Illuminati. A fascination with Romani and Jewish culture also had a major hand in the formation of what would become the first book of The Vampire Relics.


Even though I was doing a great deal of research and myth "redefinition", I still struggled to write anything with which I was comfortable. The main female character in the bones of The Chalice, Kelat, did not fit my idea of a proper antagonist, especially after I became involved in Goddess worship. Kelat, for me, was an ideal - a character that accepted herself for what she had become, but never lost her divine identity. She was an archetype of Kali or the Cailleach made manifest. I could not make her evil. So the story languished until 1990, when I discovered Shriekback, whose song 'Deeply Lined Up' gave me my first visions of who would become the primary antagonist in the stories, Cadmus Pariah.

Writer's Block haunted me for years, though, between 1990 and 1999, at which time I began to write Cadmus' biography, which became the chapter in The Chalice entitled 'Sui Generis'. From there, the writing and myth-making began in earnest, and produced the first book of The Vampire Relics, which was completed in 2005.

My hope is that, when someone reads The Chalice, they are inspired to do their own research on the Vampire phenomenon and its apparent presence throughout the world, despite nations and cultures having no contact with one another at the time rumours of Vampires came to the fore, and seek to learn more about cultures like that of the Romani, as well as mystery traditions practiced by Kabbalists, Gnostics, and Cathars. It would be heartening to hear of people leaving the book with more questions than answers, so that they might expand their knowledge and the realm of possibilities in this incomprehensible world. And I would also be very happy to have been instrumental in the broadening of readers' musical tastes by introducing them to artists like Shriekback, Concrete Blonde, ELO, XTC, Oingo Boingo, and composers Antonin Dvořák and Johann Sebastian Bach.

Lastly, I hope that American readers come out of The Chalice with the realisation that America has an incredible treasure of strange tales, and a newfound interest in those legends and mysteries, like that of the Roanoke Colony and Virginia Dare.

Please enjoy The Chalice and The Vampire Relics. Pass the tales on to those you love. Everyone in this book and the others in the series were written to encourage people to never turn away from the Magick contained in this crazy reality we all share because, if you imagine it or believe it, whatever you believe or imagine exists on some level, and may already be imagining you back.

Even monsters like Cadmus Pariah.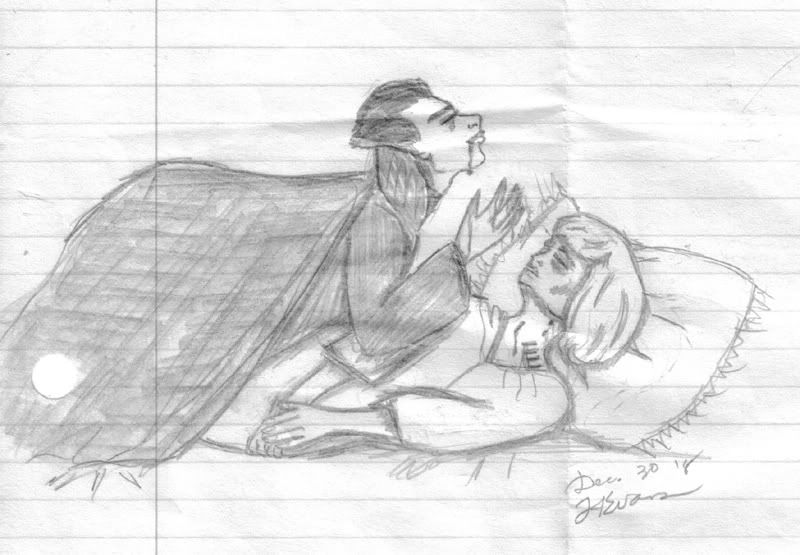 Illustration for the first Vampire story I wrote in 1987, called Vasily's Kiss.