We went to EC Tattoo at the corner of Midway and Rosecrans. This is where the Mother Unit got her wolf, and she had already told Eric they'd be back with her daughter to get a tat for her birthday the next day. He had to shrink my picture down in order for it to fit on my foot, and I also asked him to change the pink hues to green. Yeah. If pink ever ends up being permanently attached to me in any way, shape, or form, I'll just have to steal and army tank and drive into the condom-infested ocean to end it, then and there.

Eric's translation of the image into what he would be putting on my foot was nothing short of spectacular. I even love the placement of it, where the tail seems to be curving around my ankle bone. It took him a little over two hours, but it was well worth the time!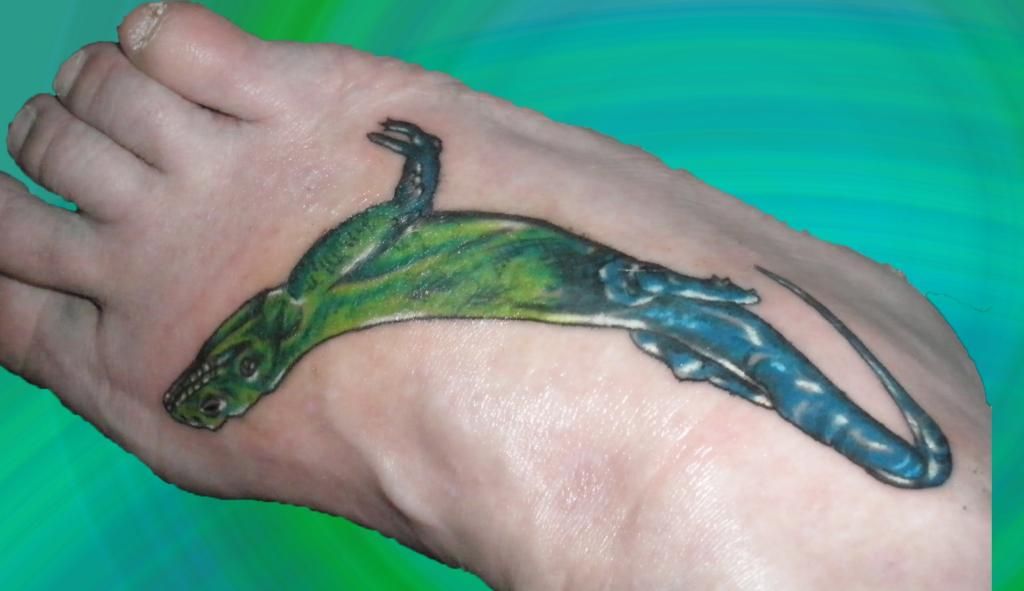 There were a few instances during the tattooing, I thought I was gonna pass out from holding my breath. I had always heard that foot tattoos were exceedingly painful, so I was as prepared as I could be. Eric's music helped a great deal. He had a Spotify mix inhabiting every atom in the shop, serving up an eclectic collection of Rap, Hip Hop, Funk, Pop, R & B, and Soul. Music always makes things better, unless it's Justin Bieber... About halfway through the inking, Eric sprayed something cool on my foot and began to rub it in. Then he began inking again. This time, though, I didn't feel anything. Anything. I figured I'd either achieved a Zen state from the first 45 minutes or so, and was now channeling the Tattoo Buddha, or I had had a stroke. It was neither. That spray Eric had used could probably be used to help women, or Brian Quinn, in labour!

Here's a picture of the tat without my fish-white foot and rotated for a better look.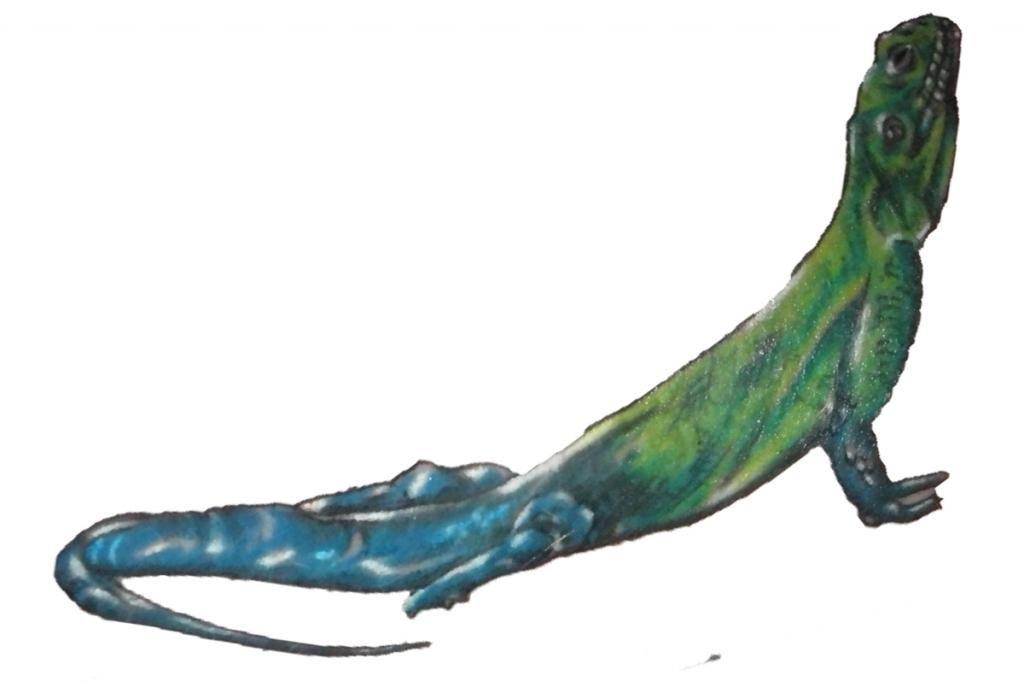 Why did I want a lizard? Not for the reason some might think. My first experience with a wild animal was with a garter snake at the age of five. I was walking in the woods next to our house with the Mother Unit, when we came upon a green garter snake. It was young, around a foot long. Mama picked it up and let me hold it for a few minutes before we placed it back down and carried on. I fell in love with the feel of cool, soft, reptilian skin on that day. That experience was what set me on the road to respecting, honouring, and adoring the natural world around us. As I got older, I began to feel a particular kinship to reptiles, because of their typical relationship with humans. They are unfairly judged as ugly, dangerous, slimy and, in some cases like the story of Genesis, downright demonic. Given my lifetime experience with humans, I've often felt like I was playing the role of the reptile - outcast and misunderstood, based mainly on my appearance. When I decided on getting five tattoos in 2000, I was determined to make the lizard on the foot happen as soon as I could.

Matt didn't get his tat yesterday, because he didn't have the image he was keen on getting. I helped him this morning collect a variety of African Greys in different shades and position for Eric to reference in creating the image Matt wants. He went over to EC Tattoos about an hour ago. As for me, I have to go to the dentist at 3 o'clock, wearing the Mother Unit's pink bedslippers, since I was instructed not to wear shoes for at least five days. It's kind of ironic that the only shoes I can safely wear are the colour to which I strongly objected in the original lizard image.

---
So yeah, the 47th birthday was full of surprises and an overall atmosphere of camaraderie I would never have expected in a million years. At the end of the day, I hugged both Mama and Matt, and thanked them for the good company, good food, and awesome gifts.
I also spent the rest of my night thanking everyone online who had sent me birthday wishes. Sometimes acknowledgement is the only thing a person needs to feel good. Everyone made me feel like a ridiculously special person yesterday and, for that, I'm grateful beyond my capacity to accurately verbalise.