When I was a kid, when my birthday rolled around, I was usually thrown a party with all adults, 'cos that's kind of what happens when you're an unpopular only child. But I loved them all the same, and was always thrilled and grateful for any presents. I was pretty low maintenance. When the family would ask me what I wanted for my birthday, as I got older, the answer was usually music, first in the forms of 45s and 33.3 RPMs, then later in CD format. But I was never one to really expect anything.

So yesterday happened. It got to a kind of shitty start with a visit to the doctor to find out I have some sort of mystery mass on my liver, and more tests need to be taken to discern if it's a danger. After that, though, the Mother Unit and Matt went into full-on "Let's surprise the flying fuck out of Tin for her birthday!" mode.

We got home from the doctor, and Matt came from upstairs to meet us, carrying a box wrapped in tinfoil. When I opened it, this was inside.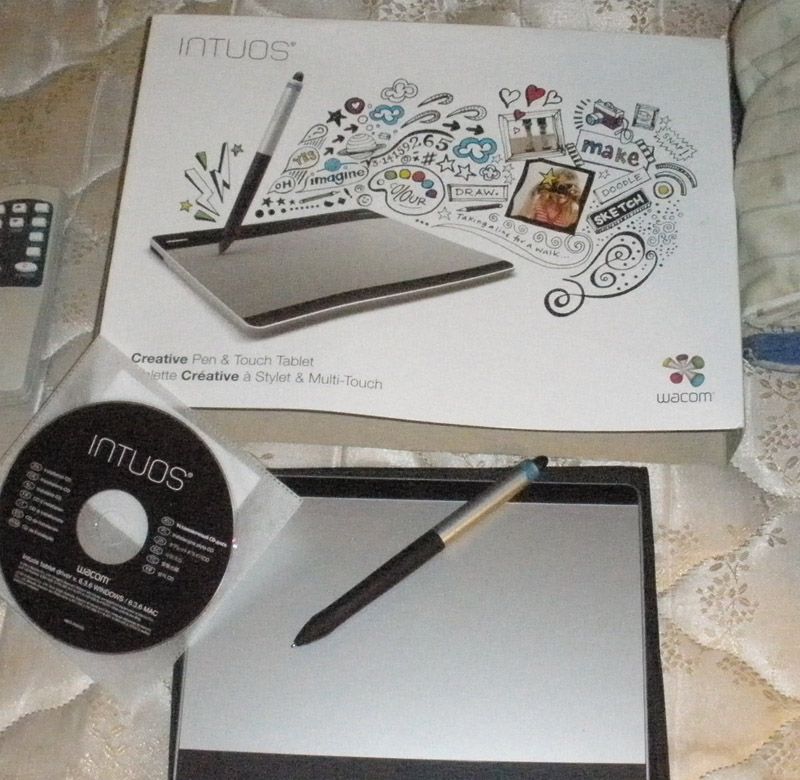 I had actually gone with the Unit and Matt to help Matt pick out an art tablet and price them myself, because I was interested in getting one. It turned out that the tablet they bought that day was actually for me!

So I got a lot of learnin' to do, Lucy!

It wasn't over yet, though. They then took me to D.Z. Akin's so I could wallow around in the best omelette I've ever eaten - a three-egg lox and cream cheese omelette, with extra cream cheese. Holy fuck, that is so good! Of course, I couldn't eat all of it then. I still have about half of it, so it should all be gone by tonight. Seriously, if you ever get a chance to have a lox and cream cheese omelette, don't pass it up. It could be a mortal sin.

A couple of hours later, we got back to the house and I figured the rest of the day would be pretty mellow. I reached out to everyone who wished me a happy birthday, and began to play around with an upcoming scene from the Work In Progress.

I was wrong.

Matt informed me that they were going out again in an hour or so, as he was going to get his tattoo. He and the Mother Unit insisted I go along, because I was going to get a tattoo as well. What? The Mother Unit had gone the day before and gotten a howling wolf tat on her shoulder (pictures will be forthcoming, when she'll let me take one and share it). They knew about my Living Tree idea, and that I wanted a lizard on one foot and an Ankh on the other, for a final total of five tattoos. I decided to go with the lizard on my right foot, and began hunting for pictures to give the artist an idea of what I wanted. This was the lizard I decided on.