I just got off the phone with a dude at CarMax. I have been approved for pretty much any car I want. But the one I want is this Smart Car.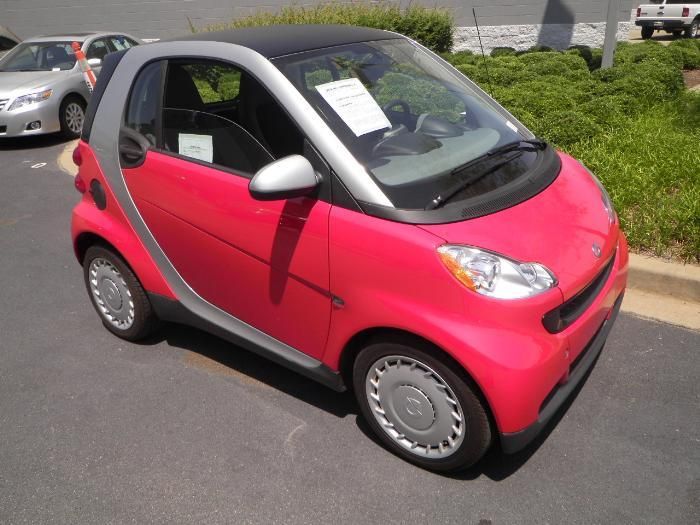 Actually, that's a lie. The one I really wanted was a black Smartie with a red interior. Hello! Maul! But, that car got sold almost immediately after it showed up on the CarMax website. That one had a little over 33,000 miles on it. This red one, though, has just under 4,000 miles. It's practically new!
I remember the first time I saw a Smart Car. In 2006,
falkenna
had taken Aunt Tudi and me to Cas Gwent (Chepstow), Wales. While we were there, Aunt Tudi spied this week clown car. We were both amazed by it, and Aunt Tudi actually had me take pictures of it in the event we never saw one again. Happily, it turned out not to be the last time we saw a Smartie. They began popping up in our area around 2009.
Even though we wanted one, Aunt Tudi said it probably wouldn't be too prudent, considering the large amount of groceries we used to get, along with being able to transport the beasties. That really isn't the issue anymore and, although I'd much rather have Aunt Tudi back, even if it meant the two of us had to hitch rides with shady individuals who drive unmarked black cars, I think she'd be happy that I'm able to get one now. I know she'll always be riding right next to me, and in spirit we'll be back in Cas Gwent.
It's just a matter of having the Smartie transferred from Columbia, where it's chillin' at the CarMax down there, and we'll be in business. Hopefully by Monday or Tuesday, I'll be back on the road!